Asia Undercovered #2 - Korean politics, Elections, and China vs...Sweden?
Welcome to Asia Undercovered, journalist Nithin Coca's take on the most important, stories from across Asia which don't get enough attention in US media.
If someone forwarded this to you, please sign up here – it's free!
---
Not getting enough attention: South Korean politics that don't have to do with North Korea
It's been more than one year since Moon Jae-In was elected President. The elections got little attention in US despite a massive corruption scandal, huge protests, and the impeachment and conviction of former President Park Geun-hye. It made me wonder what it would take for any Asian election to get attention in American media...
Moon represents the center-left Democratic Party, and has been surprisingly effective as President. Meanwhile, Park's jail term has been extended to 25 years. However, a faltering economy and growing unemployment could put his popularity in jeopardy.
Despite the media focus, in South Korea, Kim Jong Un is not a political issue that drives many voters. Instead, pollution, an aging population, trade, and gender rights are what people vote on.
Also ignored: Japan political intrigue
On September 20th, Japan's ruling Liberal Democratic Party, which has ruled the country almost uninterrupted for decades, is having a leadership election. Prime Minister Shinzo Abe has faced several scandals since the LDP was re-elected last year, most notably one on his links to an ultra-nationalist school. That's partly why he's facing a strong intra-party challenger (think primary), Former Defense Minister Shigeru Ishiba. Ishiba is more of a hawk and wants to amend Japan's peace constitution to recognize it's military, though on economics you could argue he's more moderate than the pro-business Abe.
This piece from Nikkei Asian Review highlights several things to watch and why the race matters – possibly more than the next general election. I'll highlight the results in next week's newsletter.
The whole story: China versus...Sweden?
There's some drama going between China and Sweden. The most recent headline was the absurd overreaction by the country when a Chinese tourist family was kicked out of a hotel for refusing to leave. It's apparently caused an uproar in Chinese social media, with government officials even using human rights language to criticize the Swedish response.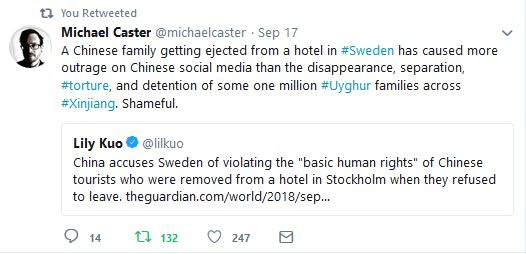 Remember, Sweden is the host for the Nobel Peace Prize, which was awarded in 2010 to the activist Liu Xiaobo. He, of course, was then under house arrest in China and never received the award in person. Last year, he died after being refused medical care for his cancer until it was too late.
Then earlier this year, China kidnapped, in front of two Swedish officials, the bookseller Gui Minhai, a Swedish citizen. He has been held ever since, with no one allowed to visit him.
If you want insight into what may be happening, read this piece by Jojje Olsson in The Sentinel, about how the current Chinese ambassador to Sweden has been increasingly assertive and aggressive. The end game? It could be, as Olsson argues, a sign of things to come. What's happening in Sweden could be the future of Chinese diplomacy everywhere.
Other important regional news
One reason? Cause big storms hit Asia too.
While the US was focused on Hurricane Florence, Asia was bracing for it's own massive, climate-change enhanced natural disaster, when Super Typhoon Mangkhut hit the Philippines, Hong Kong, and China. In Hong Kong alone, damage estimates are over $1 billion, and the death toll in Asia will likely be far higher than that of Florence.
I'm a climate journalist, and we need to highlight all the global disasters that are connected to this phenomenon, not just storms or events that hit the US.
Until next week,
Nithin Coca
---
Was there a story I missed? Respond to this email or tweet at me and let me know so I can include in next week's newsletter.
Help spread the word: Please forward this on to anyone you feel might be interested and encourage them to subscribe.